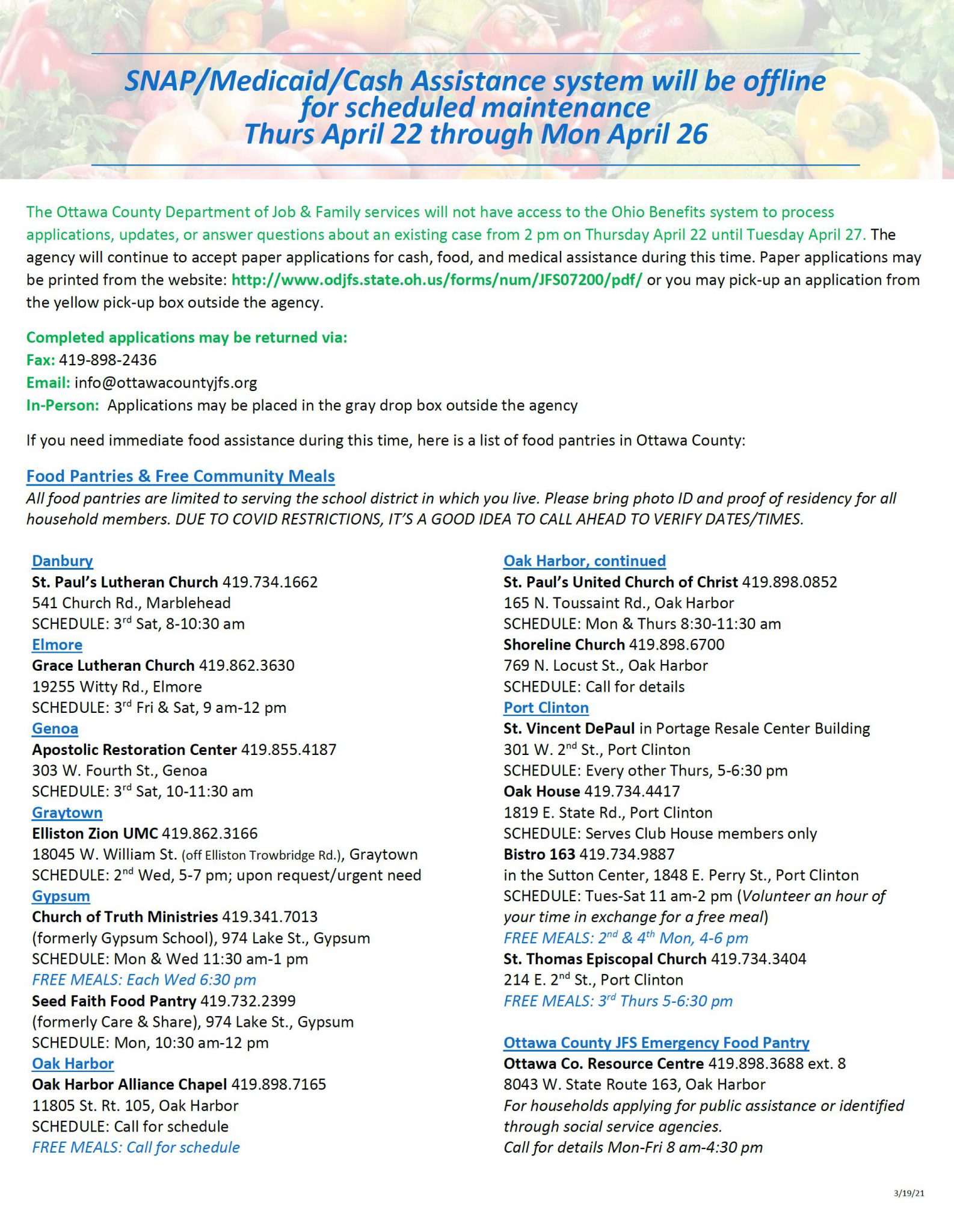 As a part of the efforts to contain the spread of the COVID 19 virus and in consideration of the safety of our customers, staff and families, the Ottawa County Dept. of Job & Family Services and OhioMeansJobs Ottawa County will be CLOSED TO THE PUBLIC unless by appointment effective Friday, May 1, 2020, until further notice. Note: All visitors will be required to wear an appropriate face covering while at the Resource Centre.
The following services are still available by telephone and/or online:
PUBLIC ASSISTANCE PROGRAMS: www.benefits.ohio.gov, call (419) 898-3688 or for SNAP, Cash and Medicaid, call (844) 640-6446.
CHILD SUPPORT: www.jfs.ohio.gov/ocs/custservwebportalwelcome2.stm
CHILD & ADULT PROTECTIVE SERVICES: call (419) 707-8639 to report suspected child or elder abuse
Documents for all programs can be placed in the agency drop box outside the main entrance or emailed to info@ottawacountyjfs.org. When emailing documents please provide a case number, name, and phone number. This email box accepts documents for all programs in the building. Please do not leave cash or checks in the drop-box.

The Ottawa County Community Housing Impact and Preservation (CHIP) program offers no-cost home repairs and rehabilitations to income-eligible Ottawa County homeowners. Repairs may include roofs, water heaters, furnaces, electrical, insulation, ADA modifications, plumbing, and more.
CHIP Application and Brochure
WiFi Access in OCDJFS Parking Lot
We're Here to Help
As employees of Ottawa County Department of Job and Family Services, our mission is to work together to assess and understand the needs of our community to facilitate independence and to provide appropriate services in a caring and compassionate manner.
Hours of Operation*
Monday – Friday: 8:00 AM – 4:30 PM
Fax Numbers:
Main Fax: 419-898-2436
ADMIN/CSEA: 419-898-0469
PCSA: 419-898-2048

Your civil rights are important to us. For information on how to file a civil rights complaint,
click here
.