We're Here to Help
As employees of Ottawa County Department of Job and Family Services, our mission is to work together to assess and understand the needs of our community to facilitate independence and to provide appropriate services in a caring and compassionate manner.
Hours of Operation*
Monday – Friday: 8:00 AM – 4:30 PM
REPORT CHILD OR ELDER ABUSE
If this is an emergency, please call
9-1-1

During normal business hours, call
(419) 707-8639

After hours, please call the sheriff's department at
(419) 734-4404
News
The Ottawa County Department of Job and Family Services (OCDJFS) will hold a public meeting at 1:00 p.m., on Friday, April 19, 2019, to seek input on the future expenditures of Title XX funds. Funding from Title XX of the Social Security Act, primarily serves the needs of low to middle income families. The meeting will be held at the Ottawa County Community Resource Center, at 8043 W. State Route 163, Oak Harbor, Ohio, in the Administrative Conference Room. The public is encouraged to give their input on the Title XX social service needs in the community for the two year funding period beginning October 1, 2019
OTTAWA COUNTY FAMILY FUN FAIR
SATURDAY APRIL 13, 2019
10:00 AM-1:00 PM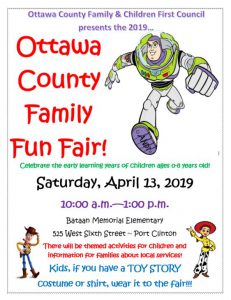 Your civil rights are important to us. For information on how to file a civil rights complaint,
click here
.